Keynote Speakers 1
Prof. Haixin Sun,
School of Information Science and Technology, Xiamen University, China
Research Area: Underwater acoustic communication, multi target recognition, target detection, positioning and tracking, multi beam imaging, etc
Keynote Speakers 2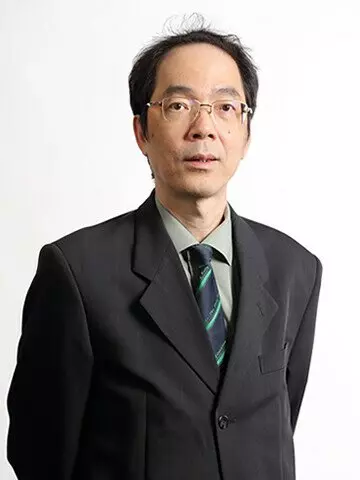 Prof. Yeung Yau-yuen
The Education University of Hong Kong, Hong Kong SAR, China
Brief Introduction: Professor Yeung Yau-yuen is a multidisciplinary scholar in two distinct academic disciplines, namely science and education. As a scientist, his research areas have been mainly related to the atomic spectroscopy of transition metal and rare earth elements, computational science and materials science. As a teacher educator, he actively conducts research in various fields of information technology and science education. The foci of his current research interest include energy technology in nanomaterials and glasses, crystal field theory, molecular dynamics simulation, science education, technology-enhanced learning and social network analysis in education.
Professor Yeung is also a visiting professor at the Sichuan Normal University (Chengdu, China) and has been an adjunct professor in the East China Normal University (Shanghai, China) during 2008-2011. In 2001-2002, he was the Head/Acting Head in the Department of Science. Professor Yeung has been serving as the supervisor and external examiner for a number of PhD candidates over the last few years. He served as the Secretary and Council Member of the Asia-Pacific EPR/ESR Society during 1997-2004 and then was conferred with the Distinguished Service Award. He is a senior member of The Association for Computing Machinery (New York, USA) since 2007.
Over the last 20 years, Professor Yeung has been leading or participating in about 60 funded projects in research, teaching development, knowledge transfer and consultancy work with more than 170 pieces of academic publications or output, including over 70 refereed journal papers, 50 presentations in local or international conferences and over 40 book/monograph chapters, professional articles/reports, or computer software etc. In addition to teaching and research, he has been extensively promoting public understanding of science, technology and environment to the young children, teenagers, adults, corporates and elderly through founding the open-access journal called Asia-Pacific Forum on Science Learning and Teaching (ISSN 1609-4913) of which he has been the Chief Editor for 12 years and actively serving in various government and NGO committees, functions (including being invited speaker for delivering talks, seminars and workshops) or competition activities (as advisor, judge, adjudicator and/or mentor). Besides, he has served as vice chair, chair or executive chairperson in organising a number of international conferences.
Keynote Speakers 3
A. Prof. Yinyin Xiao
School of Cyber Security, Guangdong Polytechnic Normal University, China
Brief Introduction: Dr. Yinyin Xiao, Deputy Secretary of the Party Committee of School of Cyber Security of GPNU, Associate Professor, Master's Supervisor. Now she is the member of the Chinese Computer Society, entrepreneur mentor of China's E-commerce, and vice chairman of the Cross Border E-commerce Professional Committee of Guangdong Province Industry Education Integration Promotion Association. Her research interests are formal methods, e-commerce security, information technology vocational and technical education, and curriculum ideology and politics. Under her guidance, students participated in innovation and entrepreneurship competitions and won provincial and national awards for many times. At present, she has presided over more than 10 scientific research and teaching research projects (including 8 projects at the provincial and ministerial level or above), published nearly 20 academic papers (5 SCI indexes, 7 EI indexes), and edited a teaching material "Teaching Design and Case Analysis for Information Technology Major".
Speech Title: Exploration of Ideological and Political Education in the Course Teaching of New Engineering Major
Abstract: Under the background of the new era, the ideological and political education in the teaching of the professional courses for New Engineering major is very important, and it is responsible for the arduous mission of cultivating political red line, legal bottom line, and moral bottom line. To construct the ideological and political education system of New Engineering major in an all-round way, we need to implement the classroom teaching reform with the goal of "ideological and political curriculum". This lecture takes the "Network Public Opinion Analysis" course of cyberspace security major as an example, focusing on the educational goal of "building morality and cultivating people", introduces the implementation path and method of integrating "ideological and political curriculum" into the teaching design, and how to build a multi-dimensional ideological and political teaching team and innovation mechanism, so as to cultivate New Engineering application-oriented innovative talents with the implication of the times, Chinese characteristics and craftsmanship spirit.
Keynote Speakers 4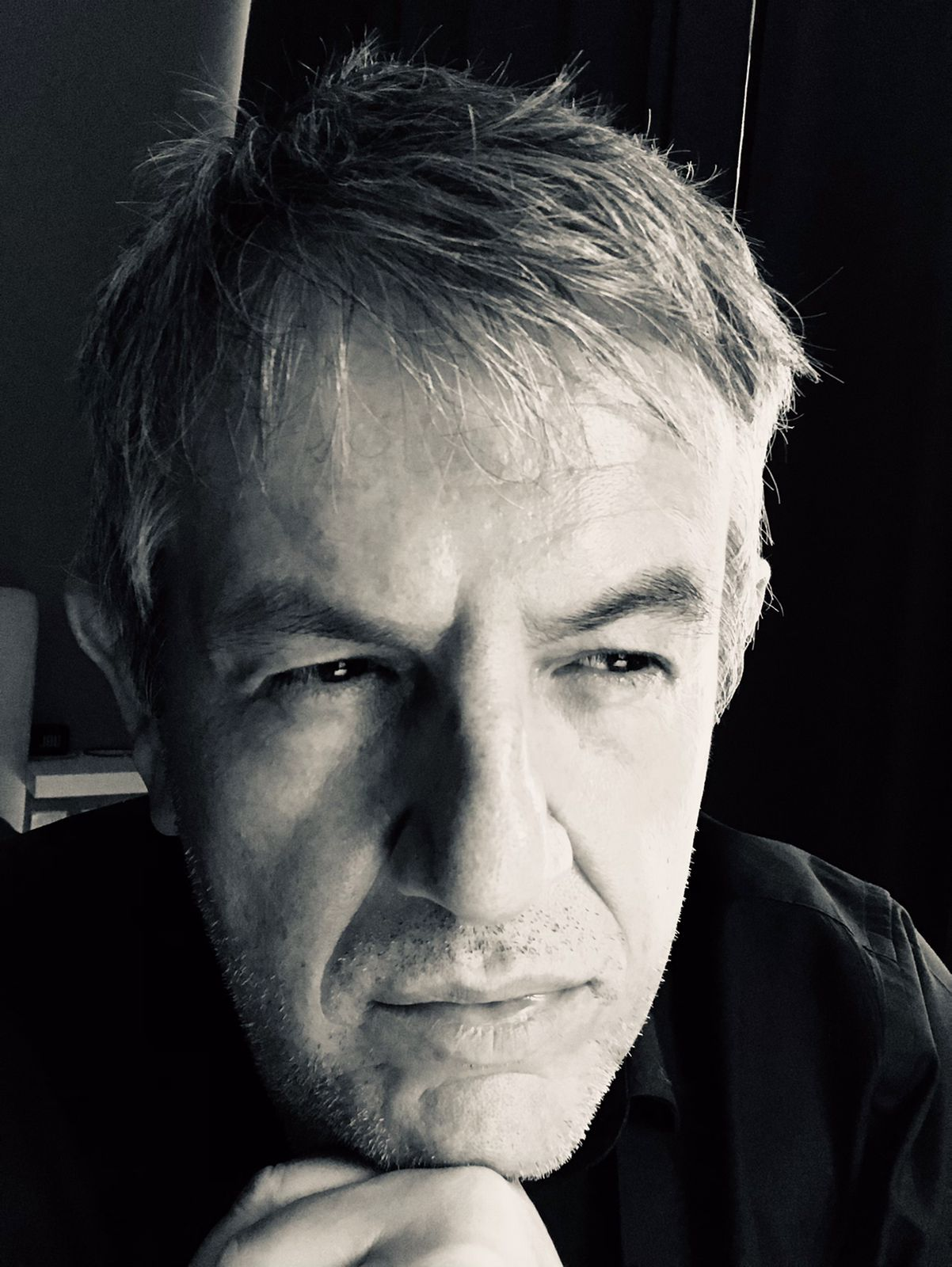 A. Prof. Constantine Andoniou
Abu Dhabi University, College of Arts and Sciences, Department of Education, United Arab Emirates
Brief Introduction: Dr. Constantine Andoniou holds a Bachelor of Education in Teacher Education, a Diploma in Education in Educational Psychology and Sociology of Education, a Master of Education in Philosophy of Education and Educational Sociology, and a Doctorate of Philosophy in Education. His academic and research interests include the information theory, post-modernity, digital learning theory, digital transformation, integration of educational technology applications in teaching and learning environments, and metaverse technologies. Dr. Andoniou has held positions in higher education in Europe, Australia and in the Middle East. Currently he is an Associate Professor of Education at the Education Dept, CAS, ADU.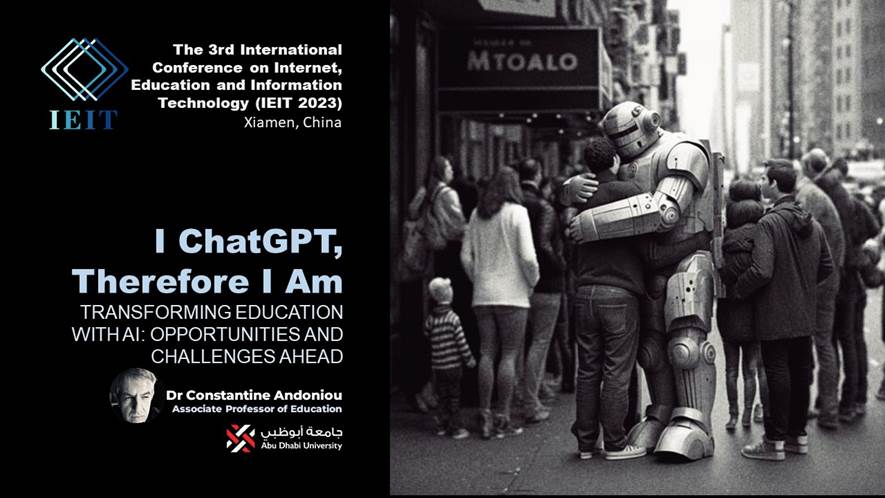 Speech Title: I ChatGPT, therefore I am--TRANSFORMING EDUCATION WITH AI: OPPORTUNITIES AND CHALLENGES AHEAD
Abstract: The recently generated interest for artificial intelligence (AI) tools in education is once more disrupting our established models of teaching and learning. Advanced language models, such as ChatGPT and others, are an attempt to support humans to provide a more personalized content of knowledge. Important ethical considerations arise regarding the pervasive nature of AI technologies and how they can be used in the context of inclusive and equitable education for all. Despite the wide range of potential benefits, such as enhancing the teaching and learning experience, there are also potential risks and challenges which need to be considered. Most importantly we need to consider the ethical, social, and economic impact on humanity ensuring that the integration of AI is used to enhance rather than replace and demote human intelligence. As the world moves to a hybrid post-pandemic era of new possibilities and endless variety of alternatives towards a digital future it is important to rethink and establish a balance between the use of AI in education and the maintenance of human intelligence as the principal factor that will ensure the future of humanity.
Keynote Speakers of IEIT 2022:

Keynote Speakers of IEIT 2021: